Good Life Advisors – Talking Points – Week 23
Valuations have compressed dramatically but still doesn't look cheap.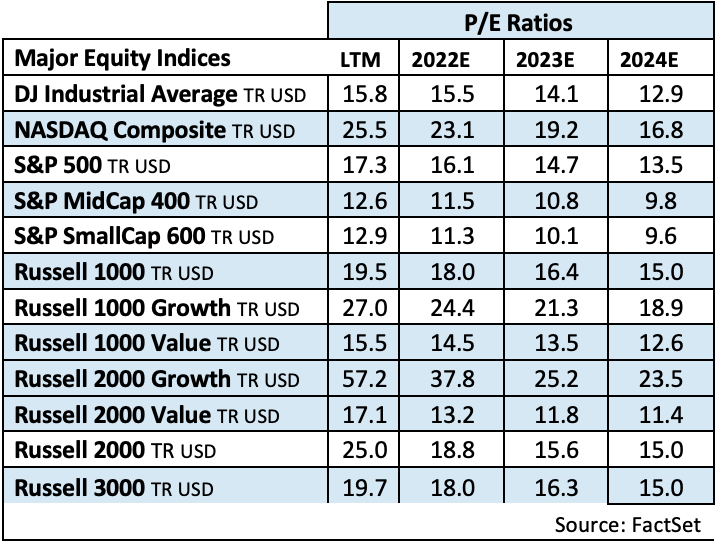 The Fed hiked by 75bp this week, after a hotter than expected May CPI print. The market is increasingly concerned about a policy mistake coming just as the economy slows. Fed chair Powell also commented that July could feature a 50 or 75bp hike, this elevated fears that the Fed won't be able to achieve a soft landing. This pushed US equities sharply lower this week as the S&P 500 had its worst weekly performance since Mar-20. All sectors were down by at least 4%, while Energy was the biggest decliner, down over 17% for the week, the sector's worst performances since Mar-20 (which isn't necessarily bad for drivers and cpi). Value was a slight underperformer to growth but both down handily. Treasuries were mixed with the curve flattening on a big front-end move, with all durations from 2Y and out still above 3%. The dollar was stronger on the major crosses this week. Gold finished down 1.8%. Bitcoin futures were down 29%. WTI crude ended the week down 10.4%.
Reuters reported that Wall Street believes that a recession is more likely after this week's FOMC meeting given increased skepticism around a soft landing, and highlighted some analyst calls forecasting rate cuts as soon as mid-2023. Bank of America analysts said that their worst fears around the Fed were confirmed, that the bank fell behind the curve and now has to play a dangerous game of catch-up. The team also said they now see GDP growth falling to zero, inflation settling around 3%, and the Fed raising rates above 4%. JPMorgan strategists said the S&P 500 now implies an 85% chance of a US recession amid fears of a policy error.
The latest batch of China economic data were better, including a return to positive industrial production growth while retail sales were better than feared. Morgan Stanley economists said that the May data confirmed China growth has bottomed, and should improve in the months ahead given a recalibrated Covid-zero policy, a Beijing/ PBoC stimulus tailwind, and accelerating consumption in wealthier cities.
Reuters was among those this week who flagged consensus earnings outlooks, citing analysts who say that they expect Q2 numbers to come down as companies talk about what they're seeing. Goldman Sachs analysts said they expect further downward revisions to consensus earnings estimates given slowing growth, still-elevated input costs, and dollar strength as a revenue headwind. Deutsche Bank strategists said this week that the S&P 500 is 90% of the way to the typical recession decline, though bottom-up analyst consensus has cut earnings estimates only modestly so far. The team said that megacap growth, tech, and the broader cyclicals group remain vulnerable to significant downgrades.
Retail sales for May fell 0.3% m/m, missing consensus for 0.2% growth and the first decline in five months. Berenberg noted that higher gas prices are likely crowding out other spending, with spending at gasoline stations now totaling 11.2% of total retail sales, well ahead of the pre-pandemic level (but below the 2008 peak of 14%). Piper Sandler economists also warned that sales could drop even further in the months ahead given 6%+ mortgage rates, gasoline prices, household savings falling near the lowest levels since 2008, and credit card debt hitting a record-high.
This week saw another big crypto plunge, with the total crypto market cap falling below $1T for the first time since Jan-21. Bitcoin fell nearly 30%, falling to around $20k to the lowest level since Dec-20. The catalyst to this week's selloff Celsius halting withdrawals to stop what Bloomberg described as a virtual bank run, while crypto hedge fund Three Arrows Capital failed to meet margin calls this week (FT).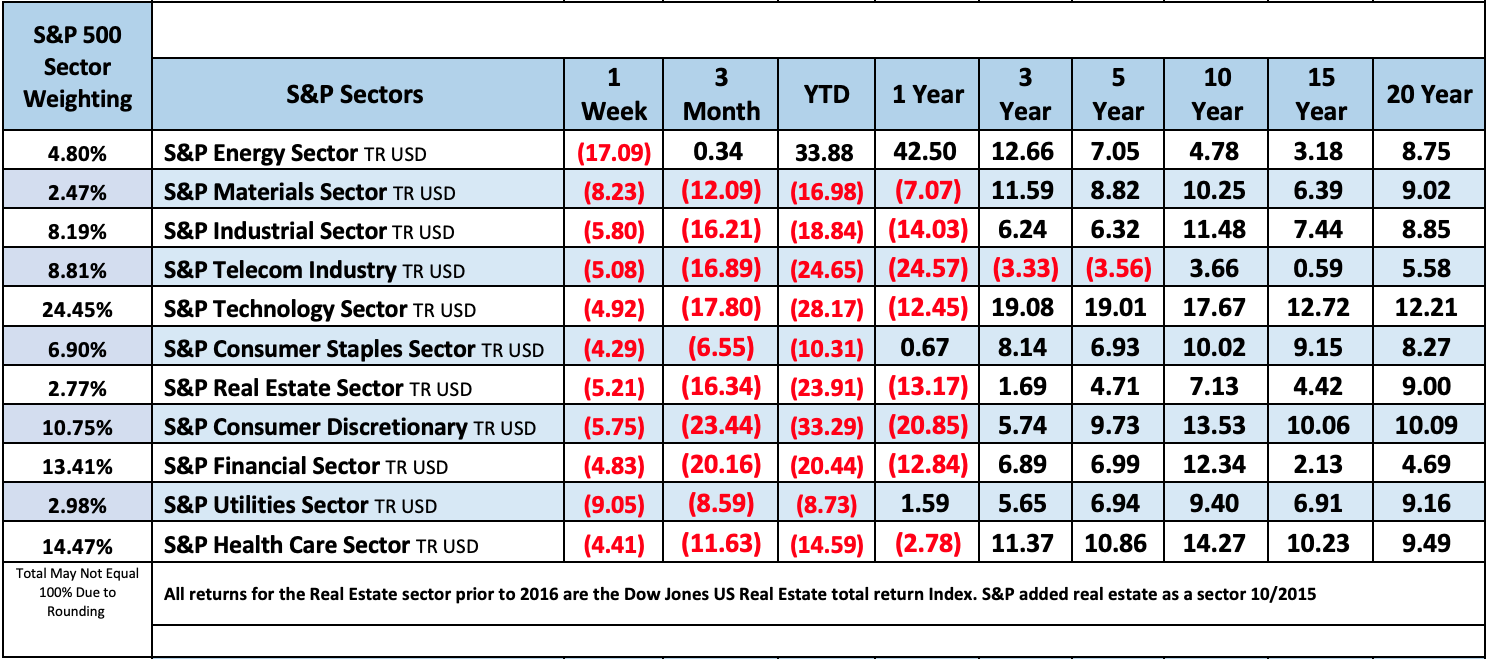 Fixed Income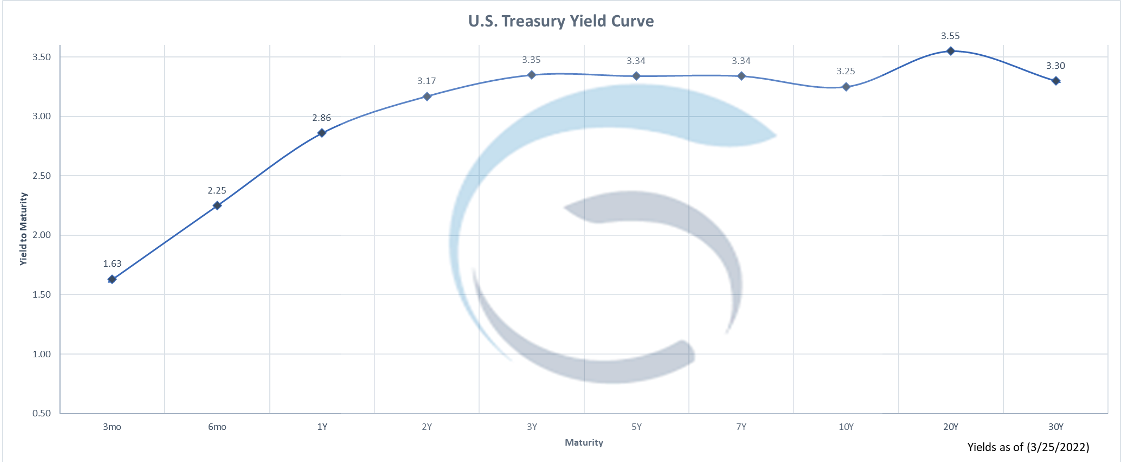 Balance Sheet Reduction Plan       Credit, Liquidity and Balance Sheet     Federal Reserve Dot Plots  
US Corporate Debt Tops 7 Trillion.    Treasury.gov yields    FOMC Policy Normalization Statement     Longer Run Goals August 2020
Foreign Exchange Market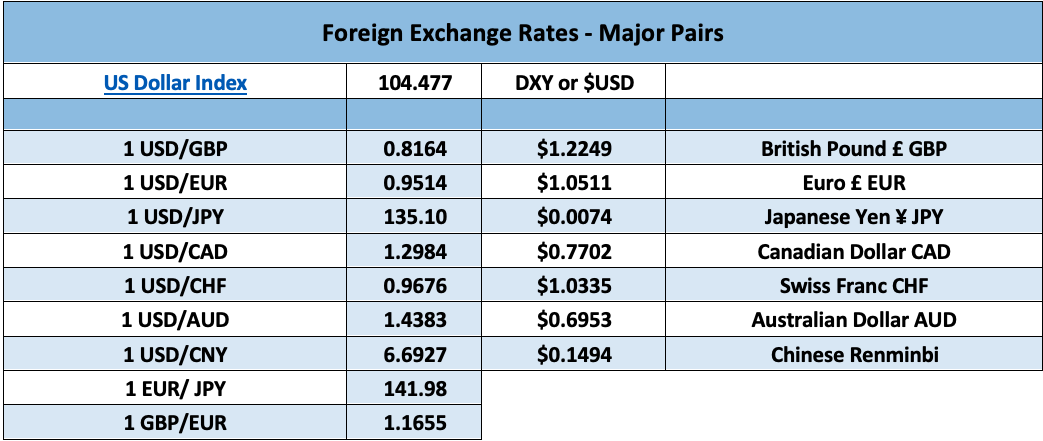 Energy Complex
The Baker Hughes rig count increased by 7 this week. There are 740 oil and gas rigs operating in the US – Up 270 over last year.

Metals Complex

Employment Picture 
Weekly Unemployment Claims – Released Thursday 6/16/2022 – The week ending June 11th observed a decrease of 3k in initial claims decreasing to 229k. The four-week moving average of initial jobless claims increased 2.75k to 218.5k.
May Jobs Report – BLS Summary – Released 6/3/2022 –  The US economy added 390k nonfarm jobs in May and the Unemployment rate stayed unchanged at 3.6%. Average hourly earnings increased 10 to $31.95. Hiring highlights include +84k Leisure and Hospitality, +74k Education and Health Services, and +75k Professional and Business Services.
Average hourly earnings increased 10 cents to $31.95.
U3 unemployment rate remained unchanged at 3.6%. U6 unemployment rate slightly increased from 7% to 7.1%.
The labor force participation rate was little changed at 62.3%.
Average work week was unchanged at 34.6 hours.
Job Openings & Labor Turnover Survey – JOLTS – Released 6/1/2022 – The US Bureau of Labor Statistics reported the number and rate of job openings decreased to 11.4 million on the last business day of April. Over the month, hires were little changed at 6.6 million and separations were little changed at 6 million. Within separations, quits were little changed at 4.4 million. The layoffs and discharges rates declined to 1.2 million.
Employment Cost Index – Released 4/29/2022 – Compensation costs for civilian workers increased 1.4% for the 3-month period ending in March 2022. The 12-month period ending in March 2022 saw compensation costs increased by 4.5%. The 12-month period ending March 2021 increased 2.6%. Wages and salaries increased 4.7% over the year and increased 2.7% for the 12-month period ending in March 2021. Benefit costs increased 4.1% over the year and increased 2.5% for the 112-month period ending in March 2021. This report is published quarterly.
This Week's Economic Data
Links take you to the data source 
Industrial Production and Capacity Utilization – Released 6/17/2022 – In May, Industrial production increased 0.2%. Manufacturing decreased 0.1%. Utilities output increased 1%. Mining output increased 1.3%. Total industrial production was 5.8% higher in May than a year ago. Total capacity utilization increased to 79% in May which is 0.5% below its long run average.
Housing Starts – Released 6/16/2022 – New home starts in May were at a seasonally adjusted annual rate of 1.549 million; down 14.4% below April, and 3.5% below last May's rate. Building permits were at a Seasonally Adjusted Annual Rate of 1.695 million, down 7% compared to April, but up 0.2% over last year.
Retail Sales – Released 6/15/2022 – US retail sales for May decreased 0.3% to $672.9 billion but retail sales are 8.1% above May 2021. US retail sales for the March 2022 through May 2022 period were up 7.7% from the same period a year ago.
Producer Price Index – Released 6/14/2022 – The Producer Price Index for final demand increased 08% in May. PPI less food and energy increased 0.7%. The change in PPI for final demand has increased 10.8% year/y.
Recent Economic Data
Links take you to the data source 
Consumer Price Index – Released 6/10/2022 – Consumer prices rose 1% m/m in May following a 0.3% increase in April. Consumer prices are up 8.6% for the 12-month period ending in May. Core consumer prices increased 0.6% m/m in May, the same as in April.
Consumer Credit – Released 6/7/2022 – Consumer credit increased at a Seasonally Adjusted Annual Rate of 10.1% in April. Revolving credit increased at an annual rate of 19.6%, while nonrevolving credit increased at an annual rate of 7.1%.
U.S. Trade Balance – Released 6/7/2022 – According to the US Census Bureau of Economic Analysis, the goods and services deficit decreased in April by $20.6 billion to $87.1 billion.
PMI Non-Manufacturing Index – Released 6/3/2022 – Economic activity in the non-manufacturing sector grew in May for the 24th consecutive month. ISM Non-Manufacturing registered 55.9%, which is 1.2 percentage points below the April reading of 57.1%.
PMI Manufacturing Index – Released 6/1/2022 – May PMI increased 0.7% to 56.1% up from April's reading of 55.4%. The New Orders Index was 55.1% up 1.6% from April's reading of 53.5%. The Production Index registered 54.2%, up 0.6%.
U.S. Construction Spending – Released 6/1/2022 – Construction spending increased 0.2% in April, measuring at a Seasonally Adjusted Annual Rate of $1,744.8 billion. The April figure is 12.3% above the April 2021 estimate. Private construction spending was 0.5% above the revised March estimate at $1,394.7 billion. Public construction spending was 0.7% below the revised March estimate at $350.1 billion.
Chicago PMI – Released 5/31/2022 – Chicago PMI increased by 2.9 points in May to 60.3. All five of the main five indicators increased except for supplier deliveries, which hit its lowest level since November 2020.
Consumer Confidence – Released 5/31/2022 – The Consumer Confidence Index saw a slight decrease in May following a slight increase in April. The Index now stands at 106.4, down from 108.6 in April.
US Light Vehicle Sales – Released 5/27/2022 – US light vehicle sales were at a Seasonally Adjusted Annual Rate (SAAR) of 14.277 million units in April.
Personal Income – Released 5/27/2022 – Personal income increased $89.3 billion or 0.4% in April according to estimates released today by the Bureau of Economic Analysis. Disposable Personal Income (DPI) increased $48.3 billion or 0.3% and Personal Consumption Expenditures (PCE) increased $152.3 billion or 0.9%.
Second Estimate of 1st Quarter 2022 GDP – Released 5/26/2022 – Real Gross Domestic Product (GDP) decreased at an annual rate of 1.5% in the first quarter of 2022, according to the second estimate released by the Bureau of Economic Analysis. GDP increased 6.9% in the fourth quarter of 2021. The GDP second estimate is based on data that are more complete than the advance estimate which estimated that GDP declined 1.4% in the first quarter. The second estimate primarily reflects downward revisions to private inventory investment, exports, federal government spending, and state and local government spending, while imports, which are a subtraction in the calculation of GDP, increased. Personal Consumption Expenditures (PCE), nonresidential fixed investment, and residential fixed investment increased.
Durable Goods – Released 5/25/2022 – New orders for manufactured durable goods in April increased $1.2 billion or 0.4% to $265.3 billion. Transportation equipment led to increase up to $0.6 billion or 0.6% to $86.7 billion.
New Residential Sales – Released 5/24/2022 – Sales of new, single-family homes decreased 16.6% to 591k, seasonally adjusted, in April. The median sales price of new homes sold in April was $450,600, with an average sales price of $570,300/ At the end of April, the seasonally adjusted estimate of new homes for sale was 444k. This represents a supply of 9 months at the current sales rate.
Existing Home Sales – Released 5/19/2022 – Existing home sales decreased in April marking three consecutive months of declines. Sales declined 2.4% to a seasonally adjusted rate of 5.61 million in April. Sales decreased 5.9% year-over-year. Housing inventory sits at 1.03 million units. Up 10.8% from March's inventory. Down 10.4% over last year. Unsold inventory sits at a 2.2- month supply. The median existing home price for all housing types was $391,200, which is up 14.8% from April 2021. This marks 122 consecutive months of year-over-year increased, the longest running streak on record.
Next week we get data on Existing Home Sales and New Residential Sales.
Data Sources:
Bureau of Economic Analysis (BEA)
Congressional Budget Office (CBO)
U.S. Bureau of Labor Statistics (BLS)
Federal Reserve Economic Data (FRED Charts)
CME Fed Watch
U.S. Treasury – Yields
U.S. Census Bureau
Institute for Supply Management (ISM)
Weekly DOL Employment Data
BLS Monthly Jobs Report
JOLTS
US Energy Admin (EIA)
BLS Consumer Price Index CPI
BLS Producer Price Index PPI
Atlanta Fed GDPNOW
NY Fed Nowcast GDP
US Census Bureau Housing Starts
Consumer Credit
USCB Retail Sales
Construction Spending
Federal Reserve Dot Plots
NY Empire Index
Philadelphia Federal Reserve
P/E Ratio Data -Yardeni Research
Technical Analysis Info:
StockCharts.com – Financial Charts
Exponential vs Simple moving average
Other Links:
1973 Arab Oil Embargo
Hunt Brothers Silver
Long-Term Capital bailout